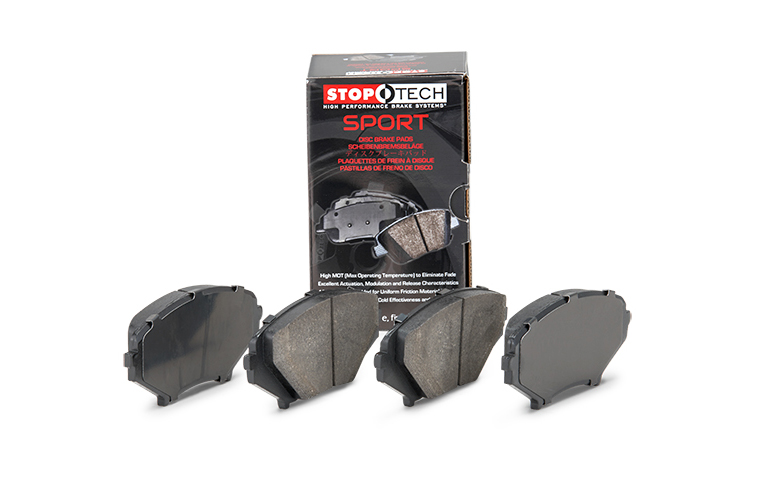 StopTech Sport Brake Pads - Formerly StopTech Street Performance
StopTech Sport Brake Pads are engineered to meet the demands of high performance driving while maintaining the refinement and comfort expected in everyday driving conditions. StopTech brake pads combine the benefits of premium street brake pads with aggressive friction formulas suitable for heavy usage. Para-aramid composites are specially formulated to provide linear response at both cold and hot temperatures, delivering optimum stopping performance over a wide range of driving conditions.


StopTech Sport brake pads are manufactured using the same positive molding process utilized by Original Equipment suppliers. Positive molding uses extreme pressure to compress the friction material and bond it to the backing plate. This process assures consistent friction material density throughout the pad, resulting in even wear and performance characteristics throughout the life of the brake pad.

StopTech Sport brake pads are scorched; this additional process forces any impurities out of the friction material and pre-burnishes the pads to greatly accelerate the break-in process.
We at KNS have seen an increased number of phone calls and emails about issues wit these brake pads on daily driven vehicles, therefore we DO NOT recommend these pads for a daily driven car, these are performance pads and are designed for hard use. Light use can lead to uneven pad deposits, brake judder and noise. We recommend these to be used for Autocross.
• High temperature pad compound ensures predictable performance in heavy service.
• Positive Mold Technology.
• Precision cut backing plates.
• 100% shimmed.
• Scorched for improved pad/rotor bed-in.