The AP Racing J Hook discs in our system are the epitome of endurance racing components. They will hold up extremely well to any abuse you plan to throw at them. These discs have been proven time and again in professional racing, winning many races and even championships (ALMS, Rolex, Grand Am, etc.
Two-piece Floating Design with Aluminum Hat
As is the case with most metal, iron brake discs grow substantially when heated. As it is heated, a disc expands radially, increasing in diameter and circumference. One-piece disc designs run into problems when this occurs. Look at the picture below and imagine the disc is being heated on the track. As the disc expands, the outer edges of the disc are pulling away from the center of the disc, but there are no built-in provisions to allow for that expansion. The edges of the disc therefore pull, lift, and distort, which is called coning. Now imagine that disc vertical on the car, running in your caliper. Coning directly impacts the brake pads' contact with the disc, leading to uneven wear and tapering, and even a long brake pedal.
Two-piece discs on the other hand, compensate for the expansion of the disc as it heats. This is accomplished by building 'float' into either the disc itself, or the disc hat/bell. In this case, the float is in the disc. If you look closely at the picture below, you can see that the mounting holes for the hat attachment bobbins are not round. They are an oblong shape. These channels allow the hat mounting hardware to slide as the disc is heated and expands, allowing the disc to run true in the caliper without distortion. That means less distortion, stress cracks, and pad taper.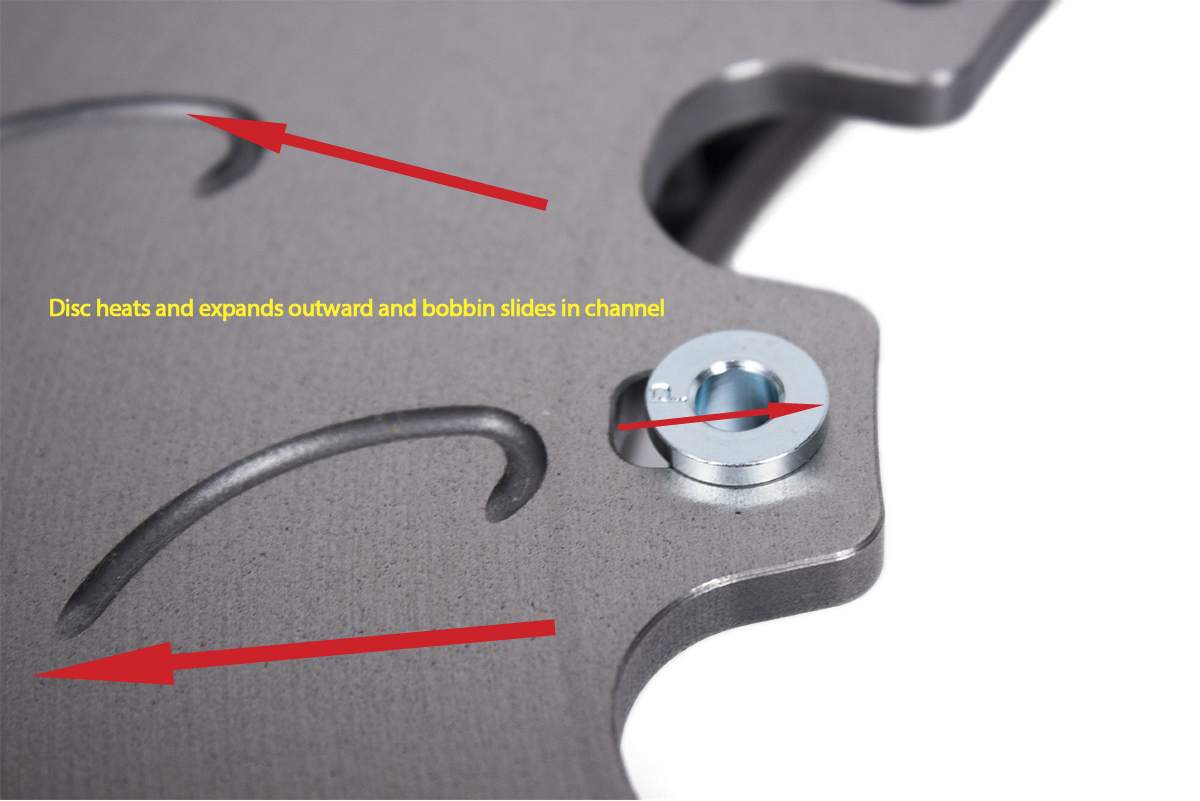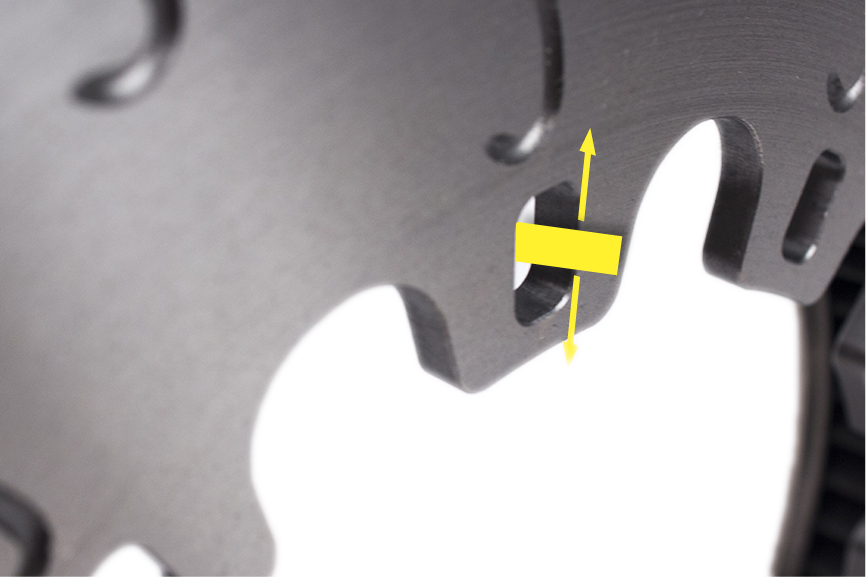 Mounting hardware and Anti-knockback Spring Clips
If you look closely at the mounting hardware we use in our Competition Kits, you'll notice a few details that are often overlooked in lesser products. These components are specially made for their intended purpose. These are not cheap bolts found at your local big box store. They are custom made in the USA for Essex and AP Racing, and they are the exact same components we use on professional racing products.
As discussed above with regards to the piston springs, knockback can be a serious issue when tracking a car. In order to help control the lateral motion of the disc, which pushes the pistons back into the caliper, we use an anti-knockback spring clip on every other disc attachment point (on a ten bolt disc there are five spring clips, while on a twelve bolt disc there are six). These spring clips help keep the disc hat and iron ring in alignment, while still allowing the disc to expand and float radially. As an added bonus, they prevent the hat and iron disc from rattling and making noise.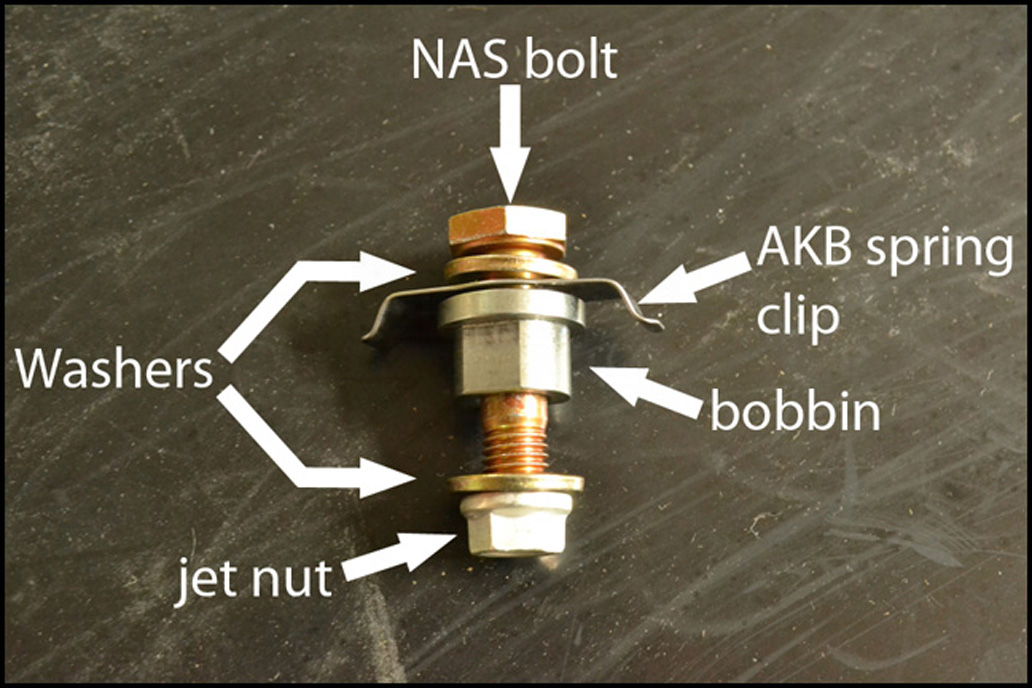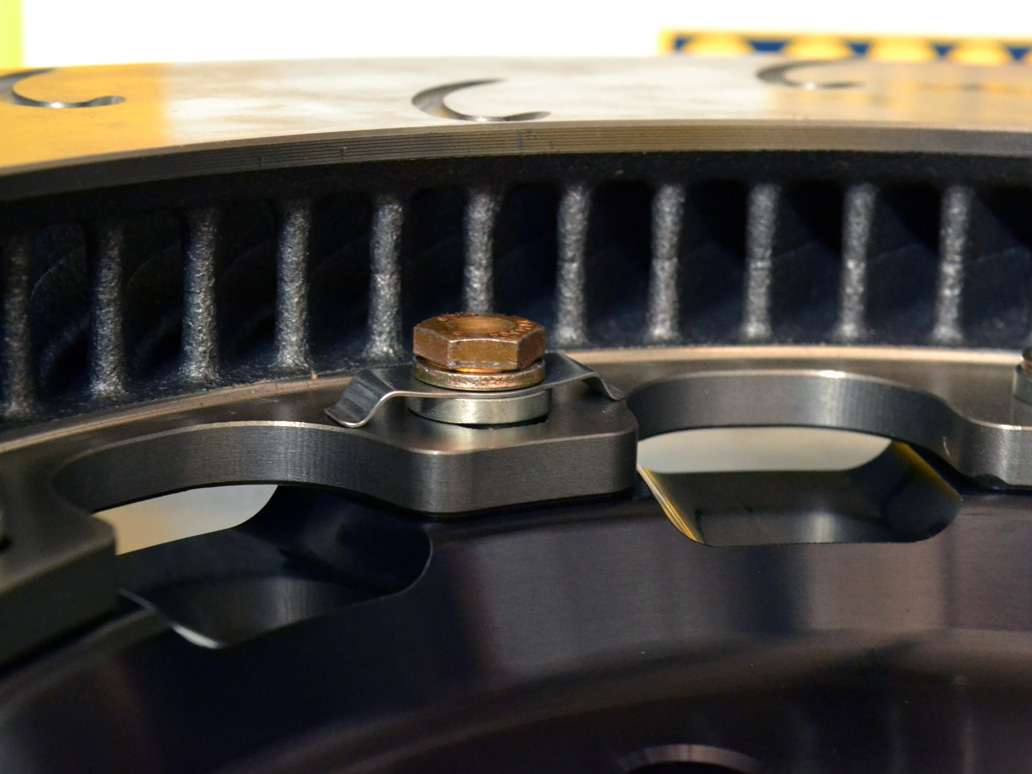 Hat Design
Floating two-piece discs also have the added benefit of reducing heat conduction to the hubs and bearings, decreasing wear and tear on these costly components. The disc hats themselves are manufactured from 6061 heat-treated billet aluminum, with a hard anodized coating. This material was specifically chosen for its strength at high temperatures, as it will be in direct contact with the searing hot iron discs. The hats feature scallops on the underside, to allow for heat evacuation along the outer disc face once installed.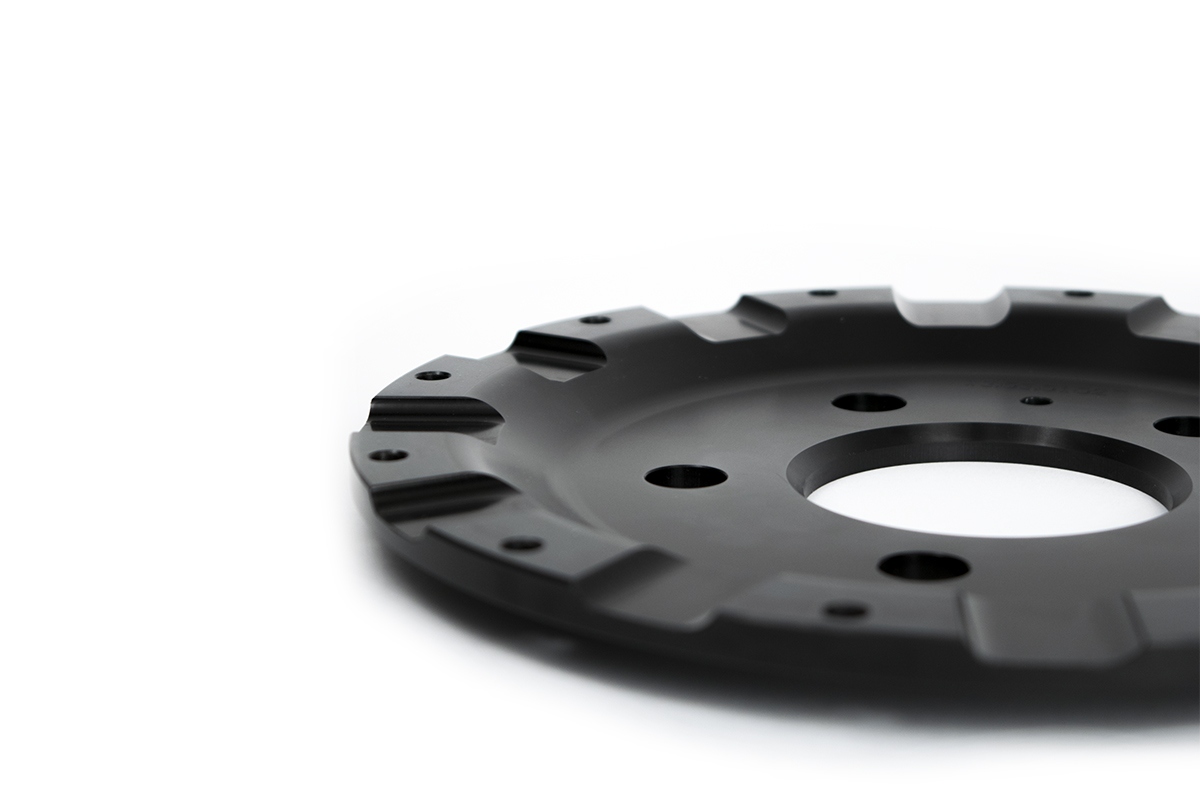 Internal Vane Quantity and Quality
The internal vane design on AP J Hook discs is quite a bit different vs. OEM-style discs and other brands of aftermarket discs. Many OEM discs feature a pillar vane design, which can be thought of as a group of posts or pillars connecting the two disc halves together (see pic below). The pillars are not organized linearly from the outside to the inside of the disc, and turbulence is created as air flows through and among them. Pillar vane discs are therefore not particularly well suited to heat evacuation. The goals of a pillar vane design are disc face stability for low NVH (Noise, Vibration, Harshness), and a low cost of production. Pillar vanes are non-directional, and the same part number is used on both sides of the car (again for cost reduction). Other OEM discs feature a straight, non-directional internal vane. While that type of vane flows more air than a pillar, it does not move nearly as much air as the directional vanes featured in AP Racing's discs. Having directional vanes means that AP Racing discs are handed. There is a unique left disc and a right disc in each pair, and they cannot be swapped from side-to-side on the car. The orientation of the vanes is optimized to spin in a certain direction, pumping the maximum amount of air possible through the disc. The shape of these internal vanes is also optimized to promote smooth airflow.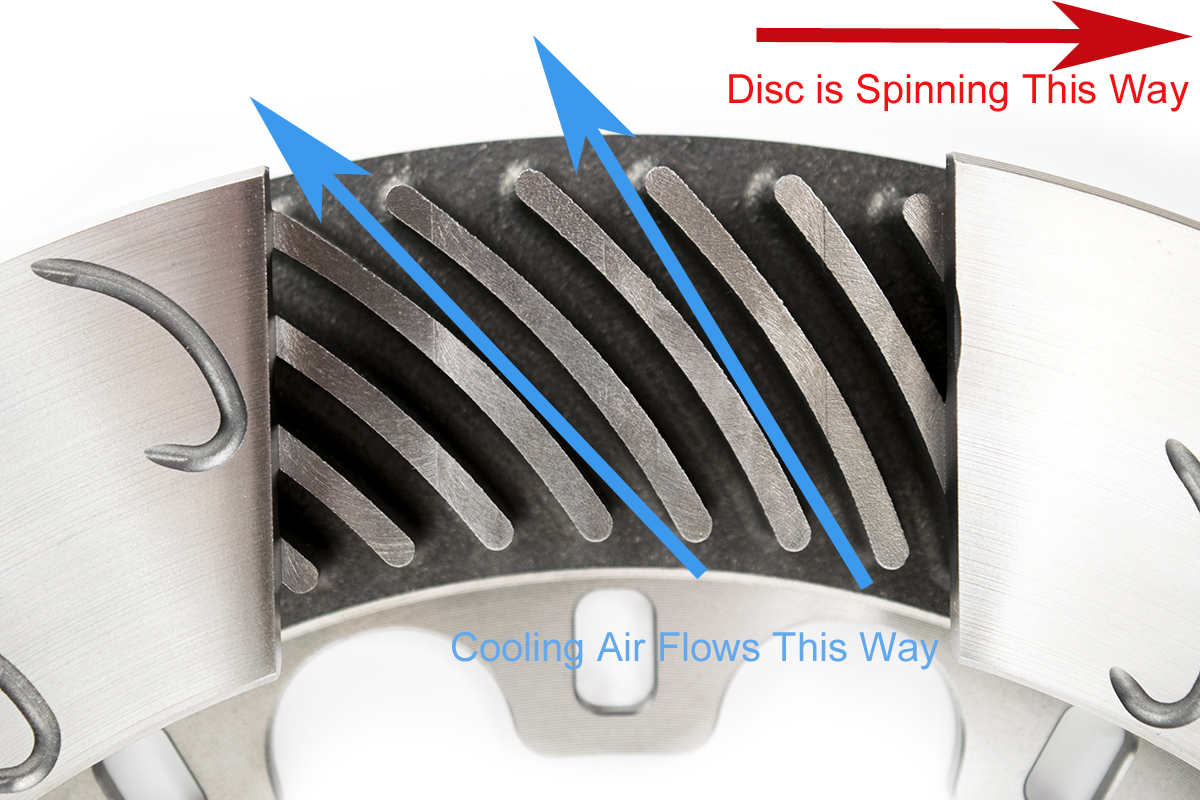 In addition to having a superior internal vane design, AP Racing discs have far more of them! Most aftermarket discs have 30 to 48 vanes. After extensive CFD and thermal stress analysis, AP designed the J Hook's with a high vane count (typically 60 to 84 depending on application). Having more vanes increases airspeed and heat transfer through the disc, reduces air recirculation between vanes, and reduces deflection at the disc face. Compared to an OEM-style disc or competitor's 48 vane discs, the 60+ vane discs are less prone to coning, distortion, and cracking, while providing less brake fade, reduced judder, more even pad contact, and a longer service life.
Below is a comparison of a one-piece OEM pillar vane disc and an AP Racing two-piece J Hook. A few things to note in these pictures: The AP Racing disc has a much wider air gap between the disc faces, allowing considerably more airflow into and through the disc. The uniform, directional vane design also contributes heavily to superior airflow.


Most of the cooling air that enters a brake disc comes from the back side of the discs, particularly if brake ducts are being employed. The top disc is an OEM pillar vane. The second disc is an OEM dual-cast disc (which is technically a two-piece disc). The bottom disc is the AP Racing J Hook. Which of these discs do you think will flow the most air? While the OEM discs have narrow inlet port and/or obstructions blocking the disc vanes, the AP Racing disc offers a clear path for cooling air to enter and flow through the disc. The result is significantly cooler discs that are less prone to cracking and wear.
Exclusive AP Racing J Hook Slot Pattern
When you cut a slot or drill a hole in a disc you impact heat transfer. The area around the slot or hole acts as a cool spot when the disc heats up, which is not ideal. Ideally, heat is distributed uniformly around the disc so it can be hit with the cooling air that is pumping through the disc, radiate outwards away from the disc, etc. Cool spots create stress risers and increase the likelihood of the disc cracking. They also cause the face of the disc to distort unevenly, leading to uneven pad deposits, vibration, and judder.
The OEM discs avoid this problem by simply leaving the face blank. While the risk for NVH goes down, so does the pad bite and feel of the disc through the brake pedal. Competitive aftermarket offerings typically have straight slots, which tend to leave cool spots across the disc face between the slots. 

During exhaustive R&D testing, AP's J Hook design was found to create a constant pathway of evenly distorted material on the face of the disc. The hooks are spaced out as evenly as possible both around the circumference of the disc, as well as from the inside edge (where the hat attaches) to outer edge, with a slight overlap to promote even heat distribution/distortion. In addition to reducing cracking, the even heating of the disc also helps provide an even transfer layer of pad material on the disc when you bed them in. 

Additionally, the J Hook slot pattern produces a greater number of leading edges for the pads to bite into vs. a traditional curved slot pattern, and particularly a plain-faced disc. While this may lead to slightly more whirring or scraping noises from the discs when applying the brakes, the benefits of more even heat distribution, less propensity to crack, cleaner pad material transfer during bed-in, and more bite far outweigh the slight increase in NVH for the serious enthusiast.
Complex Metallurgy Developed Through 50+ Years of Experience
AP Racing has been designing brake components for more than 50 years. They've had their components on cars that have won more than 750 Formula 1 races! On any given race weekend, AP J Hook discs can be found on 75% or more of the NASCAR Sprint Cup grid. AP has learned from these experiences, and have developed a proprietary iron alloy with extreme durability, designed specifically for what you intend to do with it (flog the hell out of it). The primary objectives with OEM discs are simple: they must be cheap and easy to produce. The design objectives for these two products are vastly different.
Disc Burnishing/Bedding Service
If your brake discs aren't being properly prepared for abuse prior to flogging them on track, you're exposing yourself to potential judder, vibration, and cracking issues. We all know that prepping your pads and discs at the track can be difficult. Doing so wastes time during the first session of the day, and it's a hassle and potentially dangerous for other drivers as you go through the procedure. Track time is expensive and tough to come by. The more time you spend behind the wheel performing an elaborate bed-in procedure, the less time you'll spend doing hot laps. Performing the procedure on-track also limits its repeatability. You can't control what's going on around you with track conditions, other drivers, etc., and many track configurations don't really lend themselves to the constant start/stop/start required to do the job properly.
Essex is now offering a solution via our professional burnishing service. Previously reserved for our professional racing customers, we are now offering our retail customers the option of having the discs in select Competition Brake Kits pre-burnished at our factory. We burnish thousands of discs for the top racing teams each year. After countless hours of experimentation, and extensive feedback from the top drivers and teams, we can consistently squeeze the most reliable performance out of AP Racing's discs. The procedure is incredibly repeatable, as it is performed on a computer-controlled machine by experienced technicians. The cost of our burnishing service is $50 per disc ($100 per brake kit).
Please note that the pads you receive will not be pre-burnished. In other words, the pads and discs do not have to be a matched set burnished together to reap the benefits the procedure has on the discs. In other words, we will burnish the discs in the pad compound you choose, they just won't be burnished with the exact set of pads that will arrive with your kit.
Watch a brief video of our disc burnishing service here.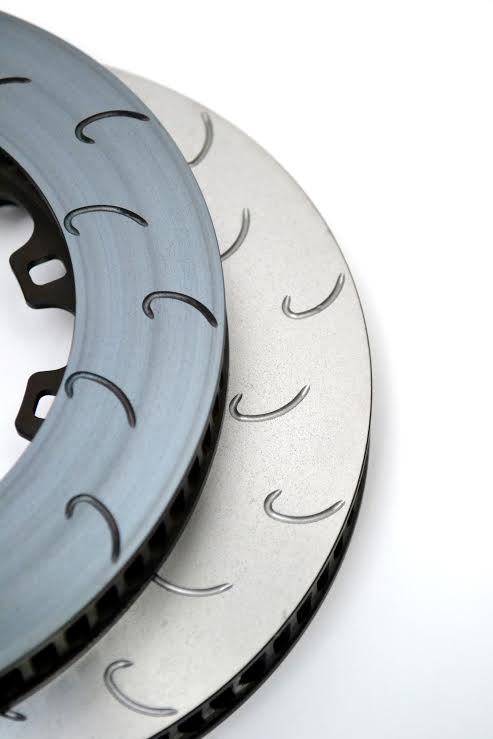 Reasonable Replacement Cost
Let's face it, no matter how good a brake disc is, it's still a consumable item. They're no different than brake pads or gasoline. You beat them up until they crack to pieces, then you throw them away. If replacement iron is too expensive, you're always driving in fear, waiting to shell out big bucks for a new set. Despite having the most expansive set of features on the market, spare AP Racing J Hook's are completely affordable.
Going to the track is expensive! Event entrance fees, hotels, fuel, and tires all add up. While you obviously want the best product available, you can't afford to pay a small fortune for something you're just going to destroy. You can buy a cheap set of discs for every event, have relentless heat issues, and find yourself constantly swapping them out. When you do the math, the long-term value of the AP J Hook's is tough to beat. You'll enjoy all the benefits without breaking the bank, and you'll spend more time driving and less time wrenching.
Elite level teams choose AP Racing discs because they know the work has been done to provide the best available product at any price level. The AP J Hook is a direct derivative of AP's vast racing experience. You can buy with confidence knowing that you're getting the best product available at any price point. A note of caution however: the J Hook design is often imitated, and there are a number of lesser quality imitations on market. Before purchasing, make sure you are getting an authentic AP Racing J Hook.